There are many misconceptions and misinformation (plenty of which is spread on the internet) about dreadlock maintenance, the most notable of which is that dreadlocks need not be washed. Yet another misconception is that dreadlocks are difficult to maintain. Nothing could be further from the truth, as we explain in our series of articles dealing with dreadlock maintenance in my Blog. I have learned a lot through my dreadlock journey by following advice from dreadlock gurus such as Yannie the only Locologist. This page begins with just a summary of the key points that I've learned and mentioned in my dreadlock maintenance series (be sure to visit my Blog for more details).
The first and most important consideration is to stretch the period between washes for up to 3 months or longer. Washing dreadlocks too often strips them of their natural oils leaving them brittle and susceptible to breakage. When washing, it is preferable that one uses only natural, non-residue shampoo products. The shampoo, Dr. Bronner's soap (Peppermint or Tea tree oil), work best for washing dreadlocks. Other shampoos like Shea Moisture Jamaican Black Castor Oil Shampoo as well as ORS Olive Oil Creamy Aloe Shampoo are generally detanglers and will wok better with mature dreadlocks that are past the stage of detangling.
The second thing to consider is the importance of keeping your scalp (and dreadlocks) moisturized and healthy. This will prevent your hair and scalp from getting dehydrated, dry and brittle. Again, ensure to use only natural, residue-free products to moisturize and nourish your scalp and dreadlocks. Aloe vera gel, a mixture of half Rosewater and half Vitamin E oil and Black Jamaican Castor Oil are recommended products.

Finally, the importance of finding a professional, experienced dreadlock hairdresser cannot be over-emphasized. A good loctician will not use any kind of wax products for the maintenance of your undergrowth. Wax products leave deposits on your dreadlocks and cause build-up over time. I only use the Crochet Method on my clients whether I am doing dreadlock maintenance, installation, repair, or adding extensions. The periods between each maintenance appointment is a personal decision. Some people prefer to let their dreadlocks grow out and freeform and may never visit a Dreadlock Specialist. Others will check in once every 6 months or more for maintenance of the undergrowth. many more prefer a tidier look and book a maintenance appointment once every 2 – 3 months. Whatever you decide, just ensure that your hair is manageable when you visit your Specialist to prevent a lengthy, uncomfortable dreadlock maintenance appointment especially if the hair has knotted at the roots or requires repair.
Below are some examples of dreadlock maintenance I have done using the Crochet Method: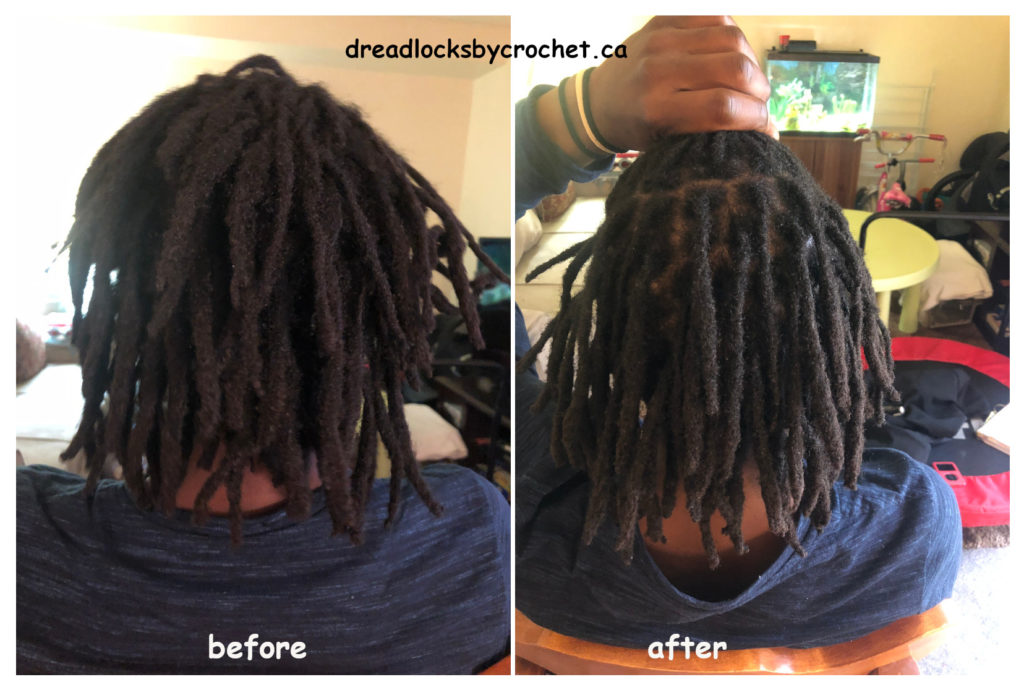 Dreadlock Maintenace at +2 years of free forming. My client could not find anyone experienced enough to maintain his dreadlocks. He had some Congos and dreadlock knotting at the scalp which is normal with free form dreadlocks. I used my hands to separate his locs and the Crochet Method to round the body of his dreadlocks and tighten his undergrowth.
Each of these clients and many others come to me with different individual needs and are satisfied with the service and results they receive! There is nothing as fulfilling to me as a happy client whose confidence is restored after I work on their dreadlocks! This to me is more important than money and fuels my dreadlock passion to continue to do what I do!